Stephen Colbert to Give Large Donation to Northwestern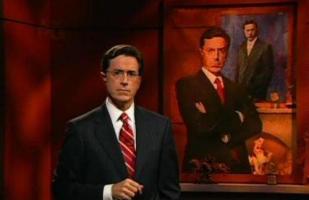 EVANSTON—Students received a message from President Morton Schapiro Monday afternoon regarding the upcoming announcement of an unprecedented alumni donation. This donation will be honored on Wednesday, January 28 at a special ceremony led by Schapiro himself.
Following the announcement, speculation concerning the identity of the magnanimous benefactor plagued the student body. Rumors of Chester M. Hanks (a.k.a. Chet Haze a.k.a. Tom Hanks Jr. a.k.a. Mr. Wonderful) involvement have been quashed by the most recent update from the Office of the President. Northwestern Alum Stephen Colbert has officially presented Northwestern University with the largest gift in the school's history.
Colbert is honoring his alma mater by bequeathing the self-portrait that used to hang above the fireplace in his studio. The painting was featured on the recently ended comedy, The Colbert Report. Through the years it has served as a symbol of freedom and prosperity, making it a priceless American treasure.
Sources say the painting will be displayed in place of The Rock, which will be relocated to the lobby of Northwestern Technological Institute. Colbert's portrait will be protected by four inches of blast-proof glass and monitored 24/7 by NUPD's finest officers.
For this unprecedented display of generosity to the university, Colbert will be celebrated by the administration renaming several schools in his honor. Northwestern University will now be made up of the following:
Stephen T. Colbert College of Arts and Sciences
Colbert School of Engineering and Applied Sciences
Stephen Colbert School of Music
Colbert School of Communication and Truthiness
Colbert School of Journalism, Media, Integrated Marketing Communications
Stephen Colbert Presents: Colbert University in Qatar
School of Education and Social Policy1
This announcement is accompanied by the public disclosure that the promised "Institute for Global Studies" is, in fact, another overseas vacation for President Morton Schapiro.
1 Mr. Colbert asked that his name not be affiliated with SESP.