NU Heats Up for Sex Week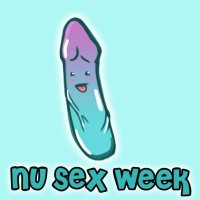 EVANSTON — These next few days mark Northwestern's annual, "Sex Week," a whole week dedicated to something that college students spend a lot of time thinking about: SEX. This year's edition of Sex Week is SHAPEing up to be the hottest yet with tons of cool events and activities smattered throughout the week, so The Flipside has prepared a list of all the hot dates you need to know about to get the most 😉 out of sex week.
Monday— Make sure you're prepared for that Oral Exam… enough said.
Location: The Language (of love) Department.
Tuesday— Orgasmic Chemistry. Everyone knows how HARD Orgo is, so pre-meds and chem majors are giving up a night of studying for something more important.
Location: Tech LR2
Wednesday— SEX-P, sex ed seminar. Come learn how to teach children about sex with the school of Education and Social Policy. Remember putting condoms on bananas? Or did your school not do that? Well now's your chance, head on over and learn all about how state law mandates that you wait until marriage.
Location: Unfinished Kresge
Thursday— The Art of Procrasturbation, a lecture on, you guessed it, the best ways to touch yourself to avoid doing your homework.
Location: Webcast streamed to your Dorm Room
Friday–A SPECIAL SURPRISE (hint, all finals are now worth 69% of your grade).
Location: A pool of your tears
Saturday— We found the G-spot.
Location: Garrett Evangelical Seminary
Sunday— Sportz are Sexy with Chicago's Ten Inch Team (and we ain't talkin' bout the snow). Come learn the wildcat way and go As Hard As You Can For As Long As You Can at a sexual health exercise class led by members of the Northwestern Wildcats Football Team.
Location: The Sex Dungeon (The Basement of Patten)