Beta Beta Beta Fraternity to Relocate to Qatar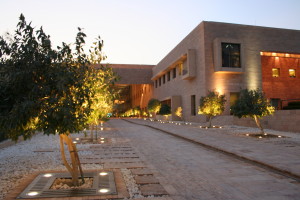 EVANSTON – Northwestern Office of Greek Life announced recently that Upsilon Upsilon Upsilon fraternity will allowed to return to campus for the 2015-2016 school year. This announcement brought concern about the fraternity residences. During UUU's absence, the Beta Beta Beta fraternity has occupied their house. Beta Beta Beta has announced that to solve the housing crisis, they will be relocating to the NU-Q campus in Doha, Qatar.
Northwestern has expressed support for this decision, and has already promised many programs to make the relocation more convenient. The Northwestern Intercampus will be adding a stop in Doha, and the Daily Northwestern will be delivered as part of the normal morning delivery route. The house has also been added as an extension to the SafeRide service area.
"Honestly I'm pretty excited," Danny Linden, WCAS '16 and incoming president of Beta Beta Beta, told reporters. "I live at Ridge and Noyes this year, so the new house will be a lot closer to campus for me."