A&O Blowout Canceled due to High Winds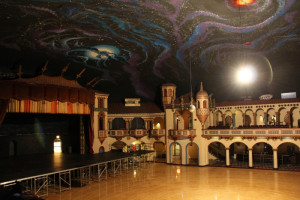 EVANSTON — To the chagrin of hundreds of Northwestern students, A&O Blowout was canceled due to high winds this past Friday. The inclement weather had only been predicted for several weeks, so the winds and rain took the concert organizers by surprise, and the event was shut down.
A&O spokesperson Michael Odess explained, "Moving such a high-profile concert is nearly impossible, and creating a backup plan for an event that costs hundreds of thousands of dollars in student activity fees is simply not feasible." Odess went on to applaud the A&O staff for their dedication to making the concert happen, until the very end when they gave up.
Headliners Icona Pop and Earl Sweatshirt refused comment, but sources say both artists gave free concerts in Chicago at their scheduled performance times. Unfortunately, while A&O was able to communicate the cancelation of Blowout with students, they were unable to relay the news of the free shows, so very few Northwestern students outside of the A&O staff were able to attend. In place of the scheduled concert, students were treated to free Papa John's pizza and screenings of Groundhog Day.