BREAKING: Nothing Happening in Plex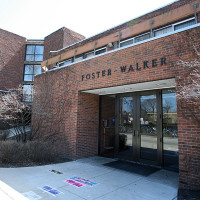 EVANSTON — According to shocking reports pouring in from Foster St., nothing is happening in Plex right now. While this allegedly began several hours ago, additional reports are claiming that there is nothing happening at this very moment either. According to bystanders at the dorm, NUPD arrived as soon as they heard the news, and a team of RAs was also on hand to respond.
"It's just not the kind of thing you ever expect," reported Jane Meyers, WCAS '18. "I was just trying to get my usual 9 hours of sleep, when the alarm started going off. Out of nowhere, nothing was happening in my very own dorm."
However, after the initial investigation, officials told a different story. According to Tenisia Adams, Resident Director of Foster Walker, it was only a matter of time. "You see, after speaking with NUPD and other top school officials, it quickly became apparent that this was actually bound to happen. The original builders had not considered this possibility, and had taken no steps to stop nothing from happening inside the dorm."
While many Plex residents are shaking by the events today, they are trying to carry on normally to the best of their extents, hoping that nothing will never happen again.