From NUKES to CRU: A Transformative Quarter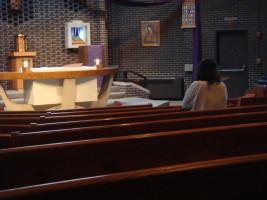 It's a snowy Sunday morning in late January. Medill senior Chloe Holmes is sitting in a pew, will all her CRU friends, silently pondering her relationship with her savior Jesus Christ. She is feeling fresh and awake, fully connected with her lord.
For most of the students in CRU this is a typical Sunday morning, and has been since their youth. For Holmes, though, waking up before noon on a Sunday without chafing from handcuffs on her wrists, without dried wax on her back, and without clothespins still attached to unmentionable places, is an all-new norm.
Up until midway through fall quarter, Holmes was an avid participant in the Northwestern University Kink Education Society (NUKES). She attended all of their meetings and would attempt what she learned either alone or with the company of others she met at The Leather Archives and Museum in Chicago.
Growing up with hippie parents in a nudist commune in rural Argentina, Holmes had no experience with Christianity. "I never understood the concept of a god. The only thing I ever worshipped were feet," said Holmes, in an interview last month.
She also only had a lose understanding of Jesus Christ's meaning to Christians. "Oh sure, I knew about Jesus. I used to role-play as him a lot. I would put on a fake beard, make my hair gross and raggedy and then I would have my boyfriend nail me to a cross. Truly, one of my most pleasurable experiences."
This all changed though on one November evening last quarter. After having given CRU her information in order to get free sunglasses at the beginning of the year, she received a call from their president Abel Jones. "I remember it well," says Holmes. "My phone rings, I pick up. I hear Abel's calm but sexually frustrated voice. I could tell from the moment I heard him that he was clearly a virgin. But he was just so persuasive. I had had a rough weekend involving an allergic reaction to leather and I was looking for a change. I was vulnerable and I am so happy Abel took advantage of my rough patch. Otherwise, I never would have found Jesus."
It was at that moment that Holmes denounced her kinky past. For the rest of the quarter, she was a zealous participant in all of CRU's events. According to Holmes, Christianity was a perfect substitute for kink because it "maintains many elements of the sadomasochism that [she] loves."
Holmes says she is excited for what CRU has in store. "I am really excited to join our aggressive recruitment campaign in the fall," she said. "My experience in bondage will really come in handy when we try to bind people to our organization against their will."