Flipside Endorses Jim Gilmore for ASG President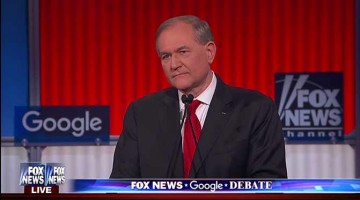 From the Desk of the Flipside President:
Election season is upon us, and at The Flipside we see it as a moral obligation to not only educate ourselves on the platforms each candidate presents us with, but also decide for ourselves which candidate best represents what we're looking for in a leader. After carefully evaluating every option, The Flipside believes the most qualified candidate for President of Associated Student Government is former governor of Virginia Jim Gilmore.
While it is true that Governor Gilmore has not formally announced his candidacy for ASG President, his recent United States presidential campaign indicates he is open to leadership roles. The fact that he waited until February 12 to suspend his campaign, after earning no delegates and failing to qualify for any of the mainstage debates, shows his perseverance in the face of irrelevance. And if there's one thing we associate with ASG, it's irrelevance.
The leaders of ASG are often caught in difficult situations in which polarized students are advocating for different sides of a resolution. Thankfully, Gilmore has no known opinions or stances, ensuring he can rationally make what will inevitably be the wrong decision in the eyes of approximately half of campus.
Finally, we can only stand in awe at Gilmore's military past. We aren't entirely sure how that relates to ASG, but it seems like it's a pretty good bonus.
The Flipside, as always, refuses to formally endorse a single party or candidate on a national level. However, in this instance, it would be a travesty to not voice our wholehearted support for the man who has what it takes to do a subpar job in a meaningless organization. Jim Gilmore is not the man Northwestern needs, but he is the one we deserve.