Residential Services Removes Doors In Attempt To Increase Inclusion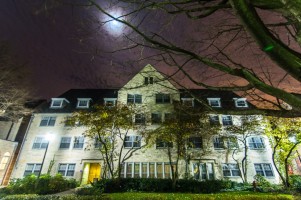 EVANSTON — According to an announcement on their website earlier today, the Office of Residential Services plans to remove all doors in on-campus housing for the 2016-2017 school year in an effort to increase inclusion at Northwestern. The sweeping policy, which will occur in both residence halls and residential colleges, involves removing all doors that currently enclose bedrooms and restrooms, as well as the doors to enter the building.
This announcement should come as no surprise to anyone who has been following the social climate at Northwestern recently, as the campus has been working on a number of initiatives to increase inclusion and diversity. According to Residence Director Marsha Wells, "even as we as a campus have worked on overcoming boundaries, we still have allowed our students to live and sleep in a deeply divided space. By permanently opening up all rooms through a stringent door-removal process, each hall will grow immensely as a community."
Emma Liu, WCAS '19, resident of Shepard, was ecstatic when she heard the news. "The whole idea of residential colleges is to promote a community within the greater community of campus. However, I often feel excluded from this community when my fellow students are hanging out alone in their rooms, or using the men's bathroom. Without doors, I will be able to include myself in anything I want, and it's hard to get much more inclusive than that."
While this announcement has been met with great acclaim, sources report that RHA is already creating a task force to determine whether walls should be replaced with giant windows, to increase transparency throughout the university.