ASG: Christina, Macs Sentenced to Death by Lethal Injection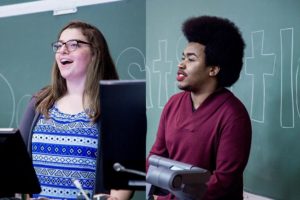 EVANSTON – Following the ASG election committee's ruling today that newly appointed ASG President and Vice President Christina Cilento and Mac Vinson violated election policy when they neglected to disclose real-time voting results during the election, an emergency session of ASG was called and determined that Clilento and Vinson are to be sentenced to death by lethal injection.
Cilento and Vinson received multiple updates on election results throughout the final day of voting at least twice.
In multiple social media posts and messages obtained by The Flipside, students urged others to vote for Cilento and Vinson, saying the voting margin was narrow, with some posts saying the margin was within five to 10 votes.
ASG Election Commissioner Lauren Thomas commented on the decision. "We considered multiple possible repercussions for Cilento and Vinson, and debated for at least seven minutes, before coming to the conclusion that these are very dangerous individuals and to allow them back into the public sphere would be a breach of public safety."
Cilento and Vinson could not be reached for comment at this time, and probably never will be again.
The execution will take place next Tuesday, April 26, at 10:00 AM in McCormick Auditorium at Norris University Center. Tickets for the viewing will be on sale this Thursday at 10:00 AM through the Norris Box Office.