Professor on Maternity Leave Just Fucking Around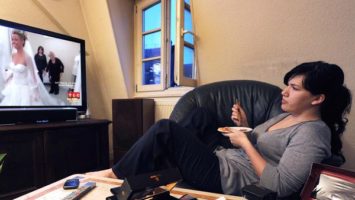 Wilmette – Reports out of the quiet community of Wilmette confirm that Northwestern Professor of Computer Science, Dr. Jill Swithers, is using her paid maternity leave for nothing productive whatsoever.
While most people in Swithers' position would use maternity leave to care for her newborn, Jill is pretty over the whole parenting thing and has logged at least 62 hours in Dark Souls 3, while logging an additional 30 in suggesting updates to online strategy guides.
Sources indicate Swithers drops off her newborn at her parent's house every morning before stopping by Domino's for a large two-topping pizza on the way back home.
"I know most people would frown upon me using my paid leave for video games, snack food, and porn, but it's my money, I got pregnant and endured childbirth, so fuck you," said Swithers in between Wendy's runs.
At press time, Swithers was seen blasting Kanye while throwing back a couple Busch Lights.