Bernie Announces Monica Lewinsky as Running Mate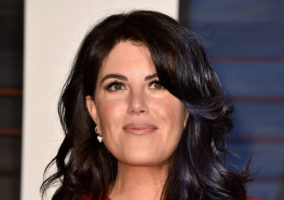 PHILADELPHIA – Following his poor performance in the crucial New York primary, presidential candidate Bernie Sanders made a splash in announcing Monica Lewinsky as his running mate today.
"I'm very excited about the opportunity to work with Monica," Sanders said at the announcement rally in front of Independence Hall. "She's flexible, she's not afraid to get her hands dirty, and she knows how to get things done in the Oval Office."
Lewinsky, who has worked as an anti-cyberbullying activist since 2014, said of her abrupt return to politics, "I'm just a really big believer in what Senator Sanders envisions for America. It has nothing to do with the other candidate for the Democratic nomination. Nothing at all."
Sanders supporters on social media have responded enthusiastically to the announcement. Within fifteen minutes of Lewinsky's arrival onstage in Philadelphia, "Monica Lewinsky" "#BernieTrollSoHard" and "#FeelTheWinsky" topped the U.S. trends list on Twitter.
The Clinton campaign would not comment on the announcement, nor confirm that Bill has been indefinitely banned from speaking to the media.
Flipside has been unable as of yet to verify the authenticity of an audio recording purportedly of Sanders telling an aide backstage "if anyone knows how to fuck over the Clintons, it's her."