Area Freshman "Goes with the Flow," Found Dead in Trash Can Next Day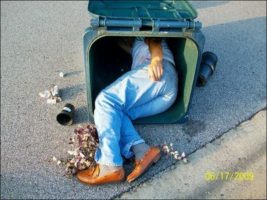 Harry McGovern, SoC '20, was reported missing one day after assuming a new life philosophy of "going with the flow," and has now been found dead in a trashcan after grabbing life by the marrow, sources say. Roommate John Weatherly, WCAS '20, spoke about his late friend: "Yeah, Harry was always a bit like a hippy, smoking weed and just lounging around talking about life and everything, but he always had a sense of his limits. But the day before he died, he decided to just go with the flow and do whatever life offers him. How could he have known what would happen next?"
According to multiple sources from his Modern Drama discussion, this past Saturday, McGovern decided to trust his instincts and make himself available to any opportunity that presented itself, and was seen soon after eating trash that flew by him, saying "thanks world" and cupping the used wrapper in his hands like a communion wafer. It may have contributed to the elevated levels of salmonella present at his autopsy.
The coroner's report also found traces of 17 different controlled or illegal substances; upon further investigation, it seems McGovern had injected himself with numerous drugs offered to him by shady drug dealers. Matt Bait, a local drug dealer, commented on this accusation: "So there I was, peddling my usual wares to the usual rich college brats, and then this guy comes up, holding a wad of bills and saying something about 'Harriet.' I give the price per gram of the good stuff, but suddenly he says he wants to 'try everything' for some weird reason. So who was I to refuse, but man, I've never seen a man inject heroin and LSD so fast into his ass before."
McGovern was last seen late on Saturday night, looking for a place to sleep. Witness Sally Everett said she saw Harry struggling to move to some place where he could sleep, and watched him proceed to bump into a trashcan. Saying "world, you know how to help a guy out," he proceeded to jump into the trashcan head first and fell asleep. "I mean, I thought he was just one of those stupid junkies who hanged around campus, and just watching that situation was just too hilarious to stop," she said. I can't believe the idiot snuffed it."
After hearing about Harry's death, campus hippies were shocked into planning out their weekends two months in advance.