Kresge Built on Ancient Student Burial Ground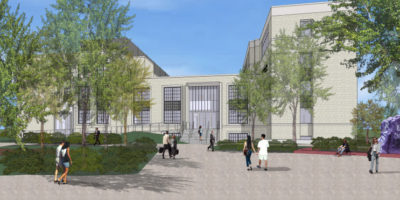 The long renovation process of Kresge Centennial Hall has unearthed more than just time capsules. Over the course of the three-year construction project, the work has been subject to more than the usual gamut of delays, unexpected water lines, and priceless historical artifacts: according to the newly published findings by Northwestern archaeologists Ida Johnson and Leslie Friedrichson, Kresge was built on an ancient student burial ground, dating back to 1851.
Workers remodeling the 62-year-old Kresge Hall on their initial excavation found nothing unusual beyond the existential hopelessness and intellectual smugness that permeates most philosophy offices, but upon closer inspection, found evidence for mass burials beneath what was remodeled to be the excessively well-lit front stairs. Hector Perez-Jones, project supervisor for the Kresge renovation, told The Flipside that "We didn't realize anything was up until we saw there were bones buried at the site along with the rest of the crap originally buried during the Lakefill's 'land reclamation.'" Aside from one worker who had walked underneath a ladder, the ancient burial ground seems to be the genesis for much of the reconstruction project's bad luck.
Scientists have retrieved and identified approximately 150 people from under the building—as detected by the geological survey of the site—who died under the oppressive legacy of Northwestern founder John Evans. According to Dr. Friedrichson, whose previous work includes determining scientifically that your ancestors were better than you, "We determined that Kresge's foundation is a combination of buried students and their hopes and dreams."
There is no word yet on where the mass grave will be relocated, but rumors are circulating that basketball coach Chris Collins wants to have the burial ground moved underneath Welsh-Ryan Arena, so that he can justify another losing season with a long-standing curse.