Morty Challenges UChicago President to 2k Throwdown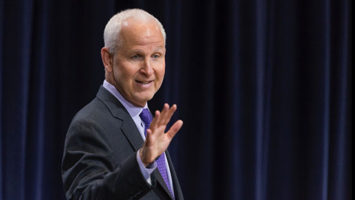 CHICAGO – The cold war between Chicago's premier academic institutions became scalding hot today, as Northwestern University President Morton Schapiro challenged his counterpart at the University of Chicago to a winner-take-all duel in the popular video game NBA 2k17.
"I'm sick of all the sniping in op-eds and welcome letters and convocation speeches," Schapiro said, after blasting UChicago's public stance against trigger warnings and safe spaces last week. "It's time to get real. It's time to take those cowards down once and for all, which I will do by obliterating him in 2k."
"This is just another example of Northwestern's needless aggression towards our eminent institution," UChicago President Robert Zimmer said. "It's quite pathetic really, that they feel the need to prove themselves in this juvenile fashion."
Asked whether he accepted the challenge, Zimmer said, "Of course I accept. Are you kidding? What, do you think I'm not good at 2k? I'm awesome at 2k."
The two presidents have set the stakes as high as they can, Schapiro explained. "If Zimmer wins, then Northwestern has to rename itself to UChicago North Shore. If I win, UChicago burns."
The game will be played on the video boards at Soldier Field, an event expected to draw dozens of spectators. Requests for tickets should be directed to the Norris Box Office.