Frat to Celebrate MLK Day by Watching The Office's Basketball Episode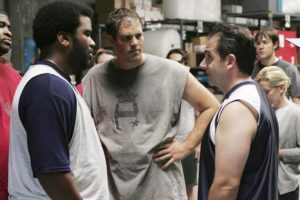 Northwestern fraternity Tappa Tappa Keg is in the news again, as they reportedly plan to host a watch party of The Office's basketball episode to celebrate Martin Luther King Day.
A statement from TTK's president, Jeff McGee, reads, "We felt there was no better way to honor Martin Luther King's contributions to the civil rights movement than by watching The Office's basketball episode. We believe this is what MLK would have wanted."
Other TTK members also seemed to be in full support of the commemorative watch party. John Daniels, WCAS '19, said, "The episode is a brilliant commentary on the dangerous consequences of stereotyping. Not all black people are good at basketball, not all fat people suck at basketball, and women are sometimes okay at basketball too. If you fall into the trap of stereotyping, you too might lose your office basketball game!"
Similarly, TTK member Stephen Smithers, WCAS '18, said, "It's really funny when Michael tells Jim to 'try to not be too gay on the court' but 'not in a homosexual way at all' just in the 'bad at sports way.' Of course, this moment also provides a valuable backdrop to talk about the prejudices against members of the LGBTQ community in the sports world."
Tappa Tappa Keg's celebratory spirit didn't stop there though, as they've just announced that they will be serving watermelon at all parties during the month of February to commemorate Black History Month.