Area Cyber-Sleuth Finds Hot Girl from Class on Facebook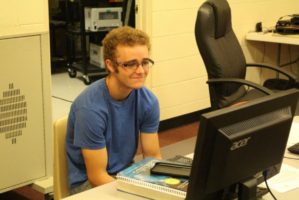 Several sources indicated today that area cyber-sleuth Bryce Powell, WCAS '19, found hot girl from class Anna Watkins, SESP '19, on Facebook.
"As soon as I saw that blonde chick in the third row wearing those yoga pants, I just knew I had to figure out who she was," the computer wizard told reporters as he looked through Watkins' beach photos from her spring break trip to Mexico last year.
Powell reportedly looked through the roster for his Intro to Psychology class on Canvas under the "People" tab as soon as the first lecture ended. The master of all things technology then cross-referenced the names of all the girls listed for the class with their Facebook profiles until he got a match.
This is allegedly not the first time that the sage of software has discovered the identity of attractive females from class on Facebook. "At this point, I've gotten so good at it that I eventually find even girls with the strictest privacy settings," Powell said while squinting at a sorority pledge class picture that apparently Watkins is in.
At press time, the triumphant vanquisher of all cyber-security was still waiting for Watkins to respond to his friend request.