Area Loser Learns He Can Masturbate Without Crying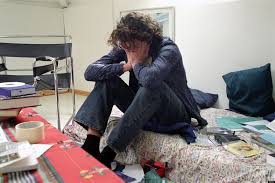 This past Saturday night, McCormick Freshman Lloyd Stewart managed to beat his meat without erupting in his routine combination of tears, snot and occasional vomit. Stewart assumed that the occurrence was some sort of fluke, but after a night spent researching on Wikipedia, Urban Dictionary, Yahoo! Answers, and ChatRoulette, he learned that polishing the pickle without bawling was somehow natural. Excited that he had finally found happiness teasing the python, Lloyd rushed to inform his Slivka floormates, who were unfortunately busy at the bi-weekly "Math 234 Practice Problem Party".
Excited to share the story of his triumphant punchin' of his munchkin, Stewart decided to contact the Flipside after being rejected by the Daily, Chicago Tribune and Buzzfeed.
"There I was, just going through the motions with my tear bucket and picture of Melisandre from Game of Thrones, and somehow I just started playing the skin flute without anything coming out! Of my eyes that is." Also available to comment was Lloyd's mom, who he called immediately after his triumphant holding his sausage hostage.
"There is a reason the good Lord brings shame upon those who 'play with Susy Palmer and her five friends'," said Mrs. Stewart, crossing herself and holding a crucifix up to her face. "Clearly this is the devil doing his work through my son."
Since his successful rolling of the fleshy blunt on Saturday, Lloyd has been unfortunately been unable to replicate his feat. His first attempt at riding the Great White Knuckler failed when he attempted to up his game by moving on from his previous go to's such as "Scooby Doo: A XXX Parody" and "Kim Kardashian: Exposed!". Since then, Lloyd has tried to perfectly recreate every aspect of that fateful night, wearing the same clothes, tinkering with lighting, even hydrating himself with a can of Pepsi: anything to help him choke Charlie 'till he throws up, "like a regular person."