White Co-Worker: So, Uh, How About That Cubs Game?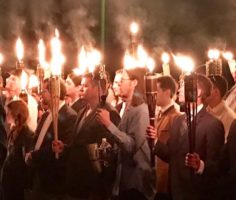 After a white nationalist rally in Charlottesville turned violent over the weekend, Monday's water-cooler conversations at the Steven Anthony Consultancy Firm inevitably turned to the controversial state of race in the U.S. and the uncontroversial idea that Nazism was bad. White co-worker Simon Penrose, despite several misguided attempts, failed to steer the conversation away from the ugliness of white America to various neutral topics.
As he got in to work Monday morning, Penrose overheard Leslie Singh and Coretta Washington—both women of color—talking in worried tones about how, in Trump's America, people could carry torches on midnight rides without the need to hide their identities under "bleached bedsheets." After grabbing an unmarked yogurt from the company refrigerator, he knew he had to speak up against the injustice.
"I was shocked. I couldn't believe that in 2017, we're still talking about this," said Penrose. "So I told them how my black friend Marcus agreed with me that we should all just be the American race and not see color. You know, because not all white people are bad of course." The 24 year old from Wilmette, who insisted on explaining how close he was to Ian Happ's eighth inning home run, said that, on the whole, white people had moved past using fire hoses and police dogs.
Despite persistent attempts, none of his co-workers shared Penrose's enthusiasm for changing the subject in quite the same way. "We should be living in a post-racial society anyway. All these identity politics just make me uncomfortable you know?"