Student Decides Laundry Can Wait Until She Has Another Paper to Write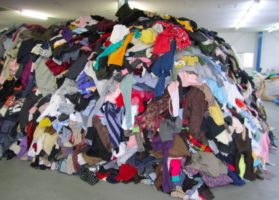 Despite every reasonable measure suggesting that it's time for her to knuckle down and do the laundry that is slowly consuming her side of the dorm room, School of Communications sophomore Sara Ostfell has decided that, once again, she has more important things to do than her laundry.
"It's as if Sara's clothes are trying to actively escape," said roommate Mel Dominguez (pronouns: they/them), commenting on the articles of clothing that had fallen from the hamper into the half-filled recycling bin. "And they're invading my [noticeably less messy] side of the room." They pointed—exasperated—to the neatly visible dividing line marked by yoga pants and stray socks.
The chores that supersede laundry, according to multiple sources close to Ostfell, include watching Netflix, applying for summer internships that haven't yet begun accepting applications, and rearranging her bookshelves in reverse-chronological order. However, laundry does take precedence over writing the Shakespeare paper that is due next Monday.
Dominguez had thought that the lack of useable bras would have finally pushed Ostfell over the edge earlier this week, but she has made do with baggy t-shirts and sheer determination. Not even Ostfell's sex life had forced her to use the Allison Hall machines, since she always went over to her boyfriend's when they hung out, but she said that she was going to finally do it herself later this weekend, when she had the prompt for her next essay, which is due Monday.
"It's the perfect writing break," said Ostfell. "It's a nice couple of hours in between paragraphs where I can throw everything into the washer and then claim I'm being productive." She expects the coffee-drenched Sunday night writing session to follow will be improved with the additional thinking time and deadline pressure.