Fraternity Elbows Way to Intramural Basketball Championship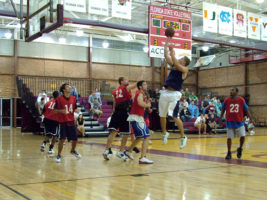 Members of the Omega Alpha Psi fraternity achieved their third consecutive intramural basketball championship yesterday, as their trademark brand of dirty physical play proved too much for their opponents to handle. With a barrage of elbows to their opponents' sternums and kidneys, the Omega team dominated the paint throughout the game.
The player of the game was sixth-year senior Blake Peters, who finished with 22 points, 8 rebounds, 14 elbows, and 6 shoves. "We just wanted this one more," Peters explained. "I didn't come to Northwestern, transfer to community college for academic reasons, have my dad donate a million dollars, and then come back just to lose the championship game." Peters sealed his team's victory late in the second half, making a key defensive stop by tripping the opposing point guard.
Team captain Connor Bryce was ecstatic. "First I pulled off solid Gentleman's C's in my econ classes, and now I've got an intramural championship, which is like the Gentleman's C of athletic achievement. This has been a really hard month because of the Bitcoin crash, so I'm really happy to at least get this." Still, Bryce noted that his team has room for improvement, as they could have yelled more slurs at their opponents while elbowing them.
At press time, the victors had already left for Buffalo Wild Wings, where sources report they proudly showed off their Intramural Champion t-shirts to their waitress.