Bald Men Passing On Street Quietly Acknowledge Each Other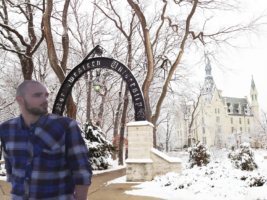 At approximately 10:24 this morning, area bald men Doug Bloomberg and Ray Deckerson reportedly exchanged a slight, almost imperceptible greeting as they walked past each other on Sheridan Road. Multiple eyewitnesses observed the men exchange prolonged eye contact and a subtle nod as the sun glinted off their heads.
"It was quick, but I definitely saw something," said local panhandler Jenny Brown (Medill '14). "It didn't look like they knew each other, but there was definitely some sort of solidarity between them." Brown noted that aside from the greeting, she didn't notice anything else peculiar except for the fact that both men sported similarly domed, hairless scalps.
At press time, Bloomberg and Deckerson declined to comment on the incident, simply telling thick-haired Flipside reporters that "they wouldn't understand."