Northwestern Postpones Big Game Park Due to Budget Concerns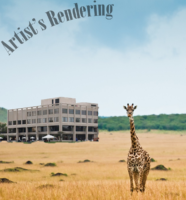 Due to several key prospective donors withdrawing their financial support, Northwestern has announced the postponement of the big game park currently in development on the Lakefill. This setback comes after the delay of the new student center, forcing Morty to try and combine funding for the two projects by seeking out a donor with an interest in both improving the student experience and hunting exotic animals.
"Who knew importing water buffalo was so expensive?" stated Zip Sparky, lead accountant on both projects. "Thankfully we could reduce costs by storing the animals in pre-assembled sections of the new student center."
Finding a donor willing to fund both projects has been difficult. "Well now, of course I was asked to fund this here big ol' game park," reported Slort Frinkum, Texas billionaire oil guru, "but y'all corn-fed Yankee pokes have took exception to my plans for 'The World's Most Dangerous Game Park and Student Center' and rejected my billions of Texas tea dollarinos."
At time of press, Morty has allegedly made plans to work exotic meats into the Sodexo dining hall rotation if no funding can be found.