Lakefill Rock Found Painted with Perfectly Accurate Predictions of the Future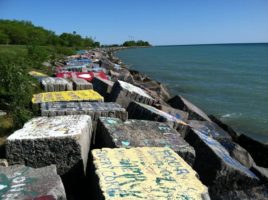 Discovered underneath the melted snow, Northwestern students have seemingly found a rock painted in the late 1980s with disturbingly accurate predictions of the future, including short phrases such as "Lewinsky Sucks," "Y2K Lies," and most remarkably, "Trump 2016."
"I'm sure there's more on there that we never found," reported Danica Jackson, SoC '20, "but after we cleared off 'Raccoon Hurricane 2019' and 'Reagan's Back!' we started to wonder if this was a good idea. And when the rain melted the rest of the snow and we found 'End of Days' scrawled in red paint on the bottom of the rock we decided to push it into the lake."
Others remain unconvinced of the painted rock's powers of prediction.
"We see this all the time, remember the octopus that predicted 9/11?" statistics professor Robert Klapper said. "Total fluke. Didn't even get the al-Qaeda part right, it said it would be the Irish Republican Army. Time will prove me right. Statistically, this is nonsense."
Some students have decided to heed the rock's predictions, stockpiling food and necessary supplies in makeshift dorm-room shelters. Fraternities are allegedly planning "Coonicane 2019" themed parties, heralding in the disaster the only way they know how.
At time of press, "End of Days" has been found painted on the campus Rock, with no student groups claiming responsibility, as well as in various parts of Alice Millar Chapel.