Care Package Contains Only a Picture of Your Parents Enjoying Themselves Without You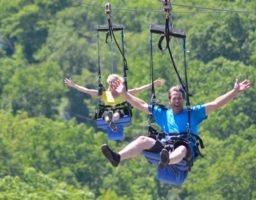 As if the stresses of student life, midterms, and finding internships to make them proud wasn't enough, your parents have really stuck it to you this time. Your care package that you so excitedly picked up from the package center is just a large Amazon box containing a single picture of your parents enjoying themselves without you.
The picture, taken by a photographer they hired after you moved out and stopped freeloading, shows your parents' smiling faces more animated and in love than you've ever seen them, zip-lining amongst tropical birds in Costa Rica. No note accompanied the picture. Looking closer, you can see the spark of genuine enjoyment of life glistening in their eyes for the first time in the almost two decades of your time on Earth.
This care package comes after an unsatisfactory grade on your physics midterm and the knowledge that your brother, who just got accepted into Yale medical school, could have done better. Thankfully, your trust fund hasn't been touched yet.
At time of press, unbeknownst to you, your brother is opening a similar package – containing the receipt for 3 tickets for a 2-month worldwide cruise and a lovely note.