Student Lands Dream Job, Too Bad It Wasn't You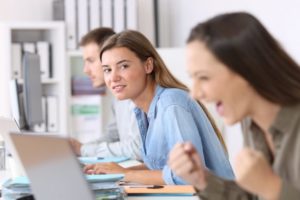 Celebrating the end of a successful college career full of lifelong friendships and treasured experiences that will never be forgotten, a lucky student has had their hard work rewarded by landing the one job that combines both their passion and career goals. Unfortunately, it was not you.
Your dedication to your major and the impressive resume you built with sleepless nights spent spreading your time too thin has netted you a front row seat watching that other guy's dreams come true. Meanwhile you toil away on Indeed, fighting for entry level jobs in rural Utah. Instead of a just reward, someone else is building a well-lived life while yours is placed on hold for 3 to 5 years so that you can gain enough experience to climb the corporate ladder.
"I just knew on that first application, this is where I'm going to end up," the other person said while you toiled away in the background, tailoring your resume for that 250th application. "It just shows that anyone who works hard enough can achieve their dreams."
Sources close to you report that you could be the one celebrating your success right now had you been accepted for that internship last summer, instead of returning home to work at Target to pay your rent money for this year.