Freshman Super Excited to Watch Dillo Through their Snapchat Camera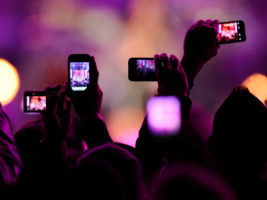 Area freshman Blake Winter is super pumped to be watching Dillo Day, his very first music festival, through his Snapchat camera, according to sources. He has reportedly already planned out relevant Bitmojis, captions, and filters to really make Dillo an unforgettable experience.
"Ugh, I just know that my blood will be racing when I get to see my favorite band of all time playing LIVE—on my phone screen," Winter said. When asked what his favorite band was, Winter answered "Young the Whitney."
One of Winter's Snapchat friends is less thrilled about his Dillo-viewing choice. "I need to watch everyone's Snapchat story before I go to bed. I can stop at any time, but it's just what I do, okay?" said sophomore Vanessa Young. "And if I get to Blake's and it's an hour's worth of blurry footage of songs literally nobody knows, I am going to be pissed." Young later clarified that she would still watch the entire thing in order to rigorously compare her Dillo experience to Winter's.
Winter went on to describe his favorite aspects of experiencing concerts through Snapchat cameras. "The way that there's a lag between every ten second chunk? I'm here for it. I love it," Winter said. "The best part is probably when you zoom in so much that everything becomes blurry and you can't even find the singer on stage anymore. What a thrill!"
Friends who plan on attending Dillo with Winter are excited as well. "I have the privilege of watching the shows not only through my own Snapchat lens," said Jack Fisher, "but through Blake's in front of me as well. It's going to be a total whirlwind."
Winter and company "totally cannot wait" to show their high school friends that they can hold a phone in front of them for nine hours straight.