Area Senior Swears this Dillo is the Dillo He Finally Gets Laid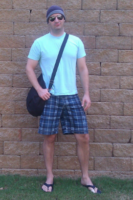 Every year, Dillo Day at Northwestern is a time for students to go wild: get heinously drunk, find some private time with their secret crush, or eat lots of ice cream and cookies. For others, however, the music festival serves as a cruel joke and a reminder of all the fun things missing from their lives. Weinberg Senior Cornelius Greenstein is one of those people.
"This year it's time for the V-Card to expire," said Cornelius when asked about his plans for Dillo 2018. "It has helped me pick up dozens of chicks but I think it is finally time to retire it." Experts such as Nate Silver's FiveThirtyEight have gaged Greenstein's success as "possible", while most Vegas sportsbooks have placed +600 odds on the event. Cornelius will have an uphill battle ahead of him—that is, in addition to losing his virginity, he also has to talk to a female for the first time.
"Last Dillo was a big moment for me. I had some lemonade that tasted a little bit funny, so I assumed Minute Maid had accidentally mixed up their batch with some Mike's Hard. Being the savage that I am, I of course finished it," Cornelius said in a completely unprompted statement. He then went on to talk about the time when Justin Jackson asked him to hang out but he was too busy going to a sorority formal, even though everyone knows for a fact that he spent that whole weekend at the Magic the Gathering convention. Perhaps he will have better Dillo luck this year.