Morty Spills His Commencement Chili All Over Himself Before Big Speech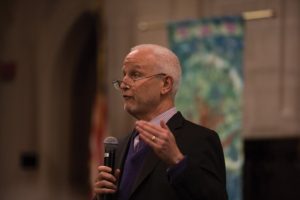 Standing next to the steaming-hot cauldron of the homemade stew with a look of disgust on his face, Northwestern University President Morton Schapiro has reportedly spilled his commencement chili all over himself before his big speech at the ceremony.
"Ah shit, not again," Morty said, an apparent reference to the 2014 commencement ceremony when Morty gave his speech to graduates with a noticeable Cheetos stain on his white dress shirt. "I knew I should have put on my Willie the Wildcat apron before dishing out such a hearty bowl of chili."
According to sources, Morty is particularly embarrassed given that all the other Board of Trustees members ate their commencement chili just fine. "Maybe [commencement speaker] Renée Fleming fumbled her chili too," he said. Fleming has not in fact spilled her chili, sources say.
At press time, Morty has decided to just give the speech as he is, figuring he can just dry up the stains with cotton candy during the ceremony.