Hillary 4: Apocalypse Unleashed Slated For Fall 2020 Release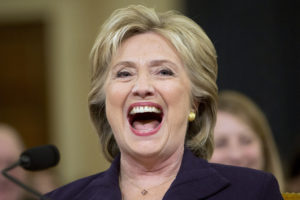 Last week, Mark Penn and Andrew Stein, producers of the Hillary movie saga, announced that there would be a fourth film in the series. Filming has just begun on Hillary 4: Apocalypse Unleashed, and the movie is expected to hit theaters around November of 2020.
The series commenced with the 90's hit Hillary: A Nightmare on Pennsylvania Avenue. The film was especially popular among women, who found a strong female lead who stepped outside her husband's shadow to be a refreshing change of pace from Hollywood.
2008's Hillary 2: The Hunted drew less praise than the first film. New York Times critic A.O. Scott lamented, "The juxtaposition of Obama's charm with Clinton's stiffness makes the villain more likeable than the hero. Though The Hunted is advertised as a horror film, I found Obama's rise to power uplifting."
Producers were clearly offended that Hillary 2 didn't scare audiences, so the writers took a completely new direction for Hillary 3: Silence of the Dems. They got rid of personable Barack Obama and replaced him with dangerous, narcissistic Donald Trump. This change resulted in one of the scariest films in decades. For Silence of the Dems' inaugural weekend, box office numbers were huge. The third film generated way more revenue than the Hillary movie with Obama. Outside the theaters, there were a million, maybe a million and a half people waiting to see Trump in the revamped Hillary 3.
However, many audience members found the latest film to be too frightening. I spoke to one young women outside the theater who, "could not sleep for a week after seeing Silence of the Dems." A mother who recently saw the movie complained, "I thought the film would be family friendly like Hillary 2, but I was wrong. This movie crosses a line and promotes language and behavior that I would not want my kids to see."
While the Hillary saga generated millions of dollars at the box office and gave audiences both fun and frightening moments, critics believe the series has run its course. If Hillary 4 is scarier than the third installment, it will be unwatchable. If it is less scary, audiences will be stuck with a repeat of Hillary 2. Additionally, the series has been around for so long that critics aren't sure what new material Hillary 4: Apocalypse Unleashed can offer. Past films have been so unpredictable that only time will tell how the latest chapter in the series will turn out.