Local Dickhead Masturbates Over Colorful and Crowded Google Calendar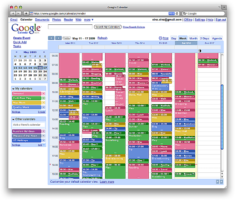 Norbucks was awash with shock and disgust this week as local dickhead, Derek Havey, touched himself to the image of his overly-colorful and very crowded Google Calendar.
Havey, a Bienen junior, has reportedly been sexually aroused by his own busy schedule since he was old enough to be sexually aroused. In fact, this was one of the reasons he was admitted to Northwestern, sources say.
An anonymous admissions officer confirmed those reports. "Many students are admitted on their sexual attraction to inundated Google Calendars alone. Derek was special, though– not only is he increasingly aroused by his personal Google Calendar the more colorful and crowded it gets, he also gets off on shoving his big Calendar down unsuspecting students' throats."
Others, however, were not so awed.
"Derek's Calendar is really not that impressive," said Jessica Wong, Derek's ex-girlfriend. "He talks it up like it's gonna change your life to see how engorged his Calendar can get, which really just leads to disappointment."
Sources tell Flipside that Havey had scheduled his aforementioned public masturbation session in his Calendar itself, with the blocked off timeslot colored milky white.