Elizabeth Warren "Yeets" Onto Your Instagram Feed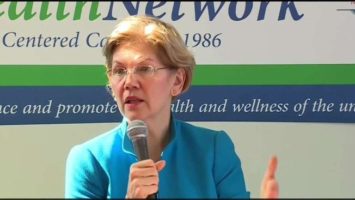 In an attempt to appear relatable to younger voters, Elizabeth Warren "yeeted" (or as some political scientists described it, "yote") onto Instagram Live. Recent public opinion polls showed that millennials no longer consider whether or not they would feel comfortable cracking open a cold one with a political candidate while casting their ballots. Instead, they want a presidential candidate who can "live, laugh, yeet."
Twenty-something social media influencer and cryptic concept filmmaker Brynlee Hodges was truly inspired by Warren's yeet.
"I've been following a few famous Democrats since the 2016 election, but they never spoke to me quite like feminist content accounts. But after Elizabeth Warren made the heroic decision to YEET onto Instagram Live just to connect with people like me…No other politician has ever attempted a yate for me before."
Following Warren's Instagram Yeet, other Democrat hopefuls having been strategizing methods of winning over Gen Z and Millennial voters. Sources predict Beto O'Rourke to yeet upon college student's snapchat stories, Kamala Harris to yoink  over Twitter, and Joe Biden to yeeteth and yoinketh away on TikTok.