ASG Builds New Ramp or Something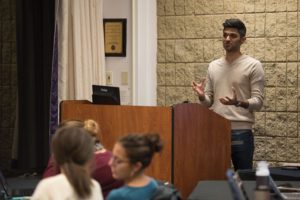 After months of planning, debating in Senate, and meeting with administrators, the Associated Student Government has finally built a new ramp or something. Their accomplishment picked up faint praise from the handful of students who read about it in The Daily Northwestern.
"It's great to see ASG improving campus with their new ramp. Or did they add more blue safety lights? To be honest, I'm not quite sure—I was skimming the article," said Percy Glaskin, WCAS '22. "As an activist, I'm really glad Northwestern is finally paying more attention to whatever group of people this thing was meant to benefit."
According to the ASG President, whose name took too much effort to find on the internet, the campus improvement project was the result of an arduous legislative process that involved lots of red tape. Members of the student government are happy to see their hard work pay off. "We basically had to beg Morty to pay for the construction," said ASG senator Todd Lane. "But I'm proud to announce, we finally have a new pedestrian walkway. No wait, a better CAPS waiting room? Nah, not that either. Darn it, even I forgot what it is, and I'm the one who proposed it."
It remains unclear whether ASG's new measure promotes accessibility, inclusion, or both accessibility and inclusion—but either way, it marks a huge step toward wellness and sustainability and equity.