Sad Little Library Event Draws Two Whole Undergrads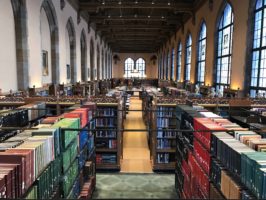 NU Libraries triumphantly announced that its Wednesday night event "Database Dash" drew two entire undergrads, a success that a press release called "unrivaled in recent memory" and "a tremendous validation for everyone on the programming team."
At the event, participants met in the Information Commons of the Main Library and were sent on a digital scavenger hunt through the university's hundreds of research databases for a free t-shirt.
"That was so fun!" said Marty Bier, a Weinberg freshman sporting a Purple Pride t-shirt who attended the event. "I hate my major now and my PA group hasn't responded to my last five messages in the old GroupMe, so I figured attending this event of my own free will was as good a cry for help as any.
"But, in the end, one of the articles I had to find about critical approaches to Enlightenment political rhetoric may lead to a lifelong passion that will fill this horrible void in myself!"
"It's great for us to see people under 40 excited about our events," said Becky Carlson of NU Libraries. "Sure, we could have had a bigger turnout, but I'm sure kids were out at the disco or bingo night. It's hard to compete for kids' attention these days."
"It was alright," said Neil Murphy, a Comm senior who was also in attendance. "The scavenger hunt was kind of insulting, I think we did the same thing at my middle school library. But it was either get that t-shirt or do laundry, so…"
Pictures posted on social media seem to indicate that the front of the shirt reads "TOO KOOL 4 SKOOL?" paired with a sunglasses emoji, while the back reads "NAH FAM" with a crying-laughing emoji and an image of a child dabbing.