A Flipside investigation: If you rearrange the letters of Archie Harrison Mountbatten-Windsor, you get Northwestern hrmnaoibsdraantiiocu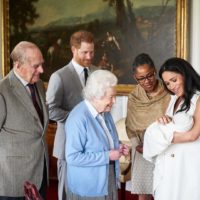 Since the birth of Prince Harry and Meghan Markle's child Archie Harrison Mountbatten-Windsor, The Flipside has spent copious time poring over clues of possible nods to Markle's alma mater in NU's most important undertaking of investigative journalism yet. (Take that, Medill Justice Project!)
The Flipside spent countless hours procrastinating on homework and blindly mixing around the letters of young royal's name ("Iran choir share absurd ointment town," "Nomad winter buttons shear iron chair.") The Flipside finally came to the realization that the letters of Archie Harrison Mountbatten-Windsor are THE SAME LETTERS as the ones in Northwestern hrmnaoibsdraantiiocu.
Coincidence? We think not.
Meghan Markle did not explicitly name her son after Northwestern. Duh. As anyone who has watched The Princess Diaries would know, royals have to be discreet. Cool and calm. A royal named 'Northwestern' would cause chaos.
What better way to honor the crown AND purple pride by mixing the letters of 'Northwestern' throughout the baby's name?
The Flipside has reached out to the Royal family's press for comment but did not receive a response. Secretive, much?