Tom Steyer Agrees His Children Do Not Deserve Free College, Love and Affection, Food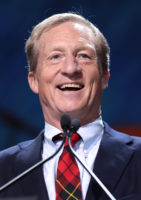 During an exchange about tuition-free higher education in Tuesday night's Democratic debate, Tom Steyer conceded that his children are not worthy of free public college, emotional support, or sustenance.
As a billionaire, Steyer insisted that his children should not be allowed to take advantage of government services such as welfare, Medicaid, or running water. While Steyer has invested millions of dollars into progressive causes and his own campaign, he touted how he has not put a single penny toward his children's health and well-being, including not paying for vaccinations or shoes. "The bare foot is already perfectly designed for human transportation," Steyer explained toward the end of his twelve-minute rant, as Bernie Sanders and Elizabeth Warren began sumo wrestling onstage.
Steyer also received questions about his latest TV ad, in which shots of the candidate's home clearly show four scrawny, disheveled 40-somethings catching and eating a pigeon while chained to a fence in Steyer's backyard. "Those are not my children. My children could never catch their own food," Steyer responded defensively.
After the debate, Steyer's campaign released a plan to give every American a hug and an ice cream cone, excluding only the "offspring of any 62 year-old dark blonde hedge fund manager running for president" due to their "being icky and annoying."