Nancy Pelosi to Supplement Gazpacho Police with Minestrone Military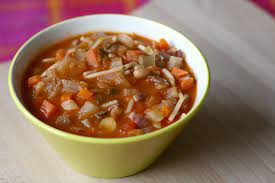 House Speaker Nancy Pelosi announced Thursday that she would be expanding her gazpacho police with a minestrone military in hopes of making the United States a global souperpower.
The minestrone military would consist of a beef and barley battalion, an Italian wedding infantry, and a nuclear weapons division.
Instead of feeding the millions of hungry Americans in the country, Pelosi said the $3 trillion budget will be put towards "the defense of democracy in less brothy countries." She appointed Clam Chowder Chief Ray Theon as the head of the new bouillon branch.
"I'm honored to be the leader of this patriotic group of brave soup soldiers," said Theon, whose accomplishments include various war crimes patriotic acts with the CIA in Latin America. "Our first mission will be to spread the glory of our country through multi-level marketing of soup. It's not a pyramid scheme, seriously."
Other missions on the agenda of the minestrone military include shooting miso missiles at innocent countries, setting literally millions of dollars ablaze, and discarding the minestrone military veterans once they have been used to the country's advantage. The new branch is sponsored by Panera Bread™ and thus all uniforms advertise bread bowls and the You Pick Two deal.
"America will become a leader in spreading peace and peasoup," said President Biden. "I trust in Ray Theon to lead the minestrone, and most importantly, line my pockets with cash."