Area Freshman Washes Laundry In Three Groups: Colors, Whites, Purple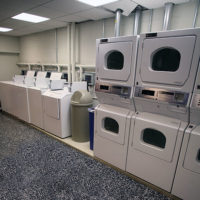 Confirming leaked CCTV footage from Sargent Residence Hall, area freshman Samantha Wu, WCAS '21, stated earlier today that she washes her clothes in three batches: colors, whites, and purple.
"Yeah, my mom was just super adamant that I separate my colors from my whites or they'll bleed onto each other," Wu told the Flipside. "I'm not exactly certain how clothes bleed, or even how you'd patch them up; but I guess that's a question for a seamstress,"
However, things quickly escalated upon her arrival to Northwestern. First she received her two mandatory purple shirts: her Class of 2021 shirt, and then her WCAS shirt. But this was only the beginning of her now massive collection. Soon enough, the shirts seemingly were budding.
"I looked in my T-shirts drawer and I found a 'Proud NU Mom' shirt, a 'Norris Employee' shirt, and a free basketball tee from a game that's scheduled for next month."
Although the move seems practical, Wu has her concerns. "Sometimes while doing the wash, I'll look in the machine and see the purples swirl; and I swear the shirts are taunting me, mocking my puny existence."
At press time, Wu told Flipside that her whites and colors have started disappearing and now she washes those together, while doing the purples separately.
"Purple…..so much purple. PURPLE," says Wu.