Schapiro Saves Tilted Kilt, Brothels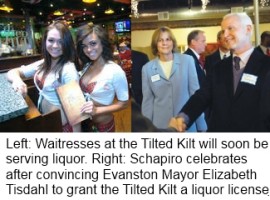 EVANSTON – "Evanston residents are at it again," Northwestern President Morty Schapiro announced Wednesday. "They are continuing to put their own petty desires ahead of the needs of Northwestern students."
The issue in question is whether the Tilted Kilt, a local Scottish-themed "Hooters-esque" restaurant, should be granted a liquor license. Evanston residents sent city hall a resounding "NO," having collected nearly 2,200 signatures on a petition showing their displeasure.
Schapiro, however, swooped in and saved the day, using his ninja-like powers of persuasion to get the Tilted Kilt a license. "For years even before I came here," Schapiro stated, "Northwestern has lacked a sense of community, partially due to the North-South campus divide. Northwestern needs more community 'hot spots' where students can informally gather, like The Great Room, Fran's Café, or the Tilted Kilt. The Tilted Kilt, in fact, could be the hottest spot of all."
Indeed, this seems to be the prevailing sentiment among students. Said Comm Studies Sophomore Alex Scotts, "I am so thankful to Morty that the Tilted Kilt has been saved. I will definitely bond with my Northwestern peers over some beers served by a waitress wearing a scandalous plaid uniform."
Schapiro is also credited with convincing the Evanston City Council to reverse their decision about enforcing the "Brothel Law." The law made it illegal for more than three unrelated people to share a house, making off-campus housing impractical for many Northwestern students. While the law is still in effect, Schapiro's maneuvering has led to an understood agreement that it will not be enforced. Larger groups of students are still happily living together, and the number of brothels in Evanston has hit an all-time high.
"It's all about community," Schapiro concluded, "and I have a clear vision in mind of the kind of Northwestern community I want to create."