Cubs Sign Epstein, Fans Fear Success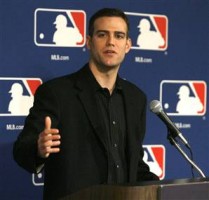 CHICAGO – The Chicago Cubs recently announced the signing of ex-Red-Sox general manager Theo Epstein to a 5 year-$20 million contract, making him one of the highest paid non-players on the Cubs directly behind Carlos Zambrano, Alfonso Soriano, and Ryan Dempster. Epstein, who is just coming off the most unproductive month of his career with the Red Sox, is expected to fit in flawlessly with the overpaid, underperforming style of play the Cubs have perfected over the years.
"We are excited and overjoyed to have Theo Epstein join us as the newest member of our organization. It has always been a priority for us to find people who have had success in the past, pay them an exorbitant amount of money, and have them underperform year after year.  We feel that Theo will be able to provide all the heartbreak and radio talk show fodder that Cubs fans need for the foreseeable future," explained Cubs owner Joe Ricketts.
In 2004, Epstein led the Red Sox to their first World Series championship in 86 years, a feat Cubs fans call bush-league compared to their current 103 year drought.
Epstein however, took the high road in describing his previous accomplishment.  "It is a fact that more New Englanders died in the 86 years between Red Sox championships than there were casualties in World War II. That makes the Red Sox drought, which I ended, deadlier than Hitler and the Plague combined."
Critics of the Cubs signing claim that the team faces the same risks that the Red Sox faced shortly after they signed Epstein, which include boosting attendance, ending their cherished losing streak, and becoming relevant in the baseball world.
Steve Bartman, a hero to hundreds of thousands of Cubs fans criticized the move. "Can you believe the risk Ricketts is taking in signing Theo? While I am sure in the long term he will continue our losing ways, we run the risk of actually winning a championship in the meantime.  If we win, that bastard will have ended a combined 189 years of losing tradition. Even the French haven't lost for that long!"
Sources in DC report that the Washington Nationals, who haven't made the World Series since 1969, are already in line to sign Epstein after he leaves the Cubs.