Greece Produces More Gyros, Not Enough Euros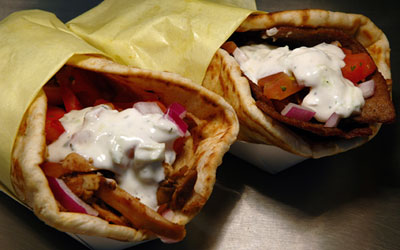 In a recent miscommunication, Greece sent 100,000 gyros to Germany to avoid debt default. After confusing the delicious pita wraps for the currency, the Greeks remain unashamed.
"We heard the chancellor needed a payment, but we didn't understand why she wanted to be paid in gyros," Prime Minister Lucas Papademos said. "After giving it some thought, however, I got it. I have never said no to a lamb sandwich."
The souvlaki industry was suddenly under a lot of pressure to complete this task in such a short amount of time. Still, being the most capable sector of the Greek economy, the meat producers pulled it off with ease.
"Luckily, cucumbers were on sale at the market, so the tzatziki wasn't an issue.  My godmother's aunt's brother's cousin is a butcher, so he pitched in for meat," said gyro-maker Yianni Papadoupoulakis.
The government is now scrambling to make up for their error. They are hoping to turn this mistake into a positive solution.
"Really, Germany should just pay us for all those gyros," Papademos said. "They were made possible by the world-famous Greek work ethic, and they deserve to be eaten and paid for. Then we can just use those Euros to pay them back. Problem solved."