Obama Implores Americans to Temporarily Halt New Jersey Jokes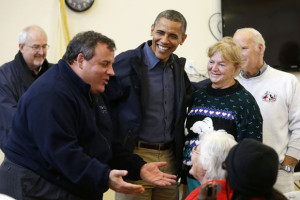 HOBOKEN, NJ — This week, after Hurricane Sandy flattened the Jersey Shore, President Obama kindly requested that Americans stop making "Jersey" jokes for at least a week.
"Out of respect for our fellow citizens in this time of crisis, I implore you all to stop making fun of New Jersey. Stop making fun of their terrible and confusing highway system. Stop making fun of the fact that the only thing in Newark that's growing is the crime rate. Stop making fun of those Oompa Loompas along the shoreline," zinged Obama with a sly smile.
During the time of panic, Obama reached out to New Jersey Governor Chris Christie. Governor Christie explained the crisis of having very little to eat or drink as grocery stores around the state were destroyed. Obama, in turn, was about to make a fat joke, but was silenced by a slight cough from his press secretary.
Horrified by the damage, President Obama declared a "State of Emergency" while he whispered under his breath to Biden, "Should have declared that one in 2009."
After spending a couple hours in the wreckage, President Obama took a cue from the New Jersey Nets and left as soon as he could.