Norris Staff Sick and Tired of Finding New Frames for Big Ten Room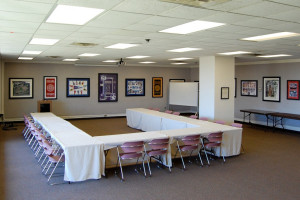 EVANSTON — As the Big Ten Conference welcomed University of Maryland as its thirteenth member, members of Norris staff were heard complaining about the consequential decoration updates to the Big Ten Room. The meeting space, located on the first floor of Norris Student Center, features stunning views of Lake Michigan and walls decorated with picture frames of memorabilia from Big Ten member schools. Most recently, a framed poster of University of Nebraska was added when the school joined the conference in 2011.
"Honestly, it seems like we're adding these all the time now," lamented an anonymous Norris staff member. "I'm just so sick of it. Sooner or later we're going to completely run out of wall space in this room. Can't the Big Ten wait for us to finish building that new student center? Besides, what on earth is a terp?"
In order to make room for the new frame, staff members were seen replacing the Indiana University's frame with a smaller hand-drawn picture of a five-year-old's artistic interpretation of a "Hoosier." Staff members were later observed throwing University of Iowa's frame out by the lakefill fire pit.
Norris employees were last seen brainstorming for the appropriate memorabilia to place in the new frame. Ideas included aerial photography of the main campus building, photographs of Byrd Stadium which is still larger and nicer than Ryan Field, and delicious crab cakes.
When asked about Rutgers University, the staff outright refused to spend any more money on plastic picture frames, especially for The State University of New Jersey.