MTV Hopes to Smarten up with New Show, "16 and Pregnant with Caveman"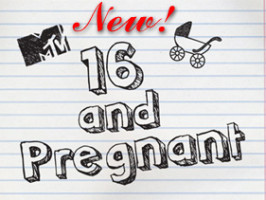 NEW YORK — When George Church, a geneticist at Harvard Medical School—a small medical training facility in Massachusetts—first announced that he was looking for volunteers to be impregnated by a Neanderthal embryo constructed from DNA ripped from bone fragments, he was cautiously optimistic that someone would step up. But it soon became clear there were no takers, and Church was about to call the whole thing off.
Enter MTV, formerly known as Music Television. An MTV representative contacted Church last Tuesday enquiring about the embryo. Two phone calls later and a quick meeting to work out the details, and the newest show from MTV was born.
According to sources, the show's format will be similar to The Bachelorette. A field of twelve willing teenage girls will compete in various Neanderthal related challenges, and whichever ones succeeds in emulating a Neanderthal mother the best will be fertilized by Church, who will also serve as the primary judge on the show.
From there, MTV will launch a new show featuring the winning teen mother and her newborn Neanderbaby under the working title, "16 and Pregnant with Caveman." This spin-off will mostly focus on the mother dealing with the tough circumstances that resulted from her string of poor choices that ultimately culminated in having a caveman embryo injected in front of a national audience.
Once the Neanderthal has grown to maturity, MTV will likely give it its own show or hire him out to Geico.
This may seem like a sudden move away from classic MTV mainstays, such as "Jersey Shore" or "Tila Tequila: A Shot At Love," but an MTV representative who wished to remain unidentified stated that this attempt at infusing intelligent subject matter is in a direct response to the success of The Learning Channel. TLC was a channel created by NASA to air educational shows to the public, and the recent success of the intellectually stimulating "Here Comes Honey Boo Boo" makes it clear that TLC's unique approach is working.
One source stated, "We don't really know what prehistoric DNA they put into Honey Boo Boo's mother, but between you and me, she looks like she's got a little wooly mammoth in her. And it's trying to escape."
The Flipside also asked the MTV contact when the channel planned to return to showing music videos and similar content. He said he would mention it at the next board meeting. He was later found dead in an alley behind Snooki's new house.