Proposed Changes to Norris "Totally Make Sense"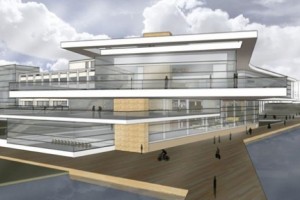 EVANSTON — Even with a $150 million major renovation in the works, smaller recent changes to Norris University Center have already been called "totally practical" and are universally enjoyed by the student body.
"The new purple walls just make my day that much better when the Norbucks line goes out the door," said Weinberg sophomore Cassie Weeks. "Plus, the new couches by the entrance will be a great place to lounge around during all of that free time I totally have."
The renovated entrance area now includes additional artwork and TVs. New postings boards in the adjoining stairwell will also remind everyone to agree with Markwell and that NU Nights still exist. Norris staff members hope these changes will help the student body realize how great this decrepit, 40-year-old student center truly is.
"Norris is such a special place," said Director of Programming Marge Jensen. "It's in such a convenient location and everyone uses it so much that these changes not only totally make sense but also promise to really improve every Wildcat's day."
The long-term renovation to overhaul the beloved student meeting and leisure space is slated to start as early as 2025. The blueprint includes white and black box theaters, a ballroom, a multi-story bridge to the University library, a shark tank, three Tibetan prayer rooms, a rollercoaster, and a two-story sports bar with a view of the planned $220 million athletic complex.
In the meantime, students can also look forward to the relocation of US Bank. The new, larger office on the ground floor will be able to accommodate big spenders looking to spend money on things like filming a new music video, renting a yacht for your birthday, or another ridiculous renovation.