Norris's Broken Golden Tee Arcade Game Leaves NU Despondent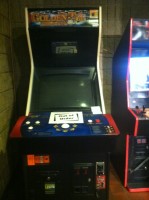 EVANSTON — The Golden Tee arcade game located in the ground floor of Norris has fallen into disrepair, sending shock waves through Northwestern and leaving 8,000 students unsure of how to spend their time.
"It was just such a big part of how I spent my weekends, you know?" said Angela Smith, sophomore Communication major. "What am I supposed to do now, play non-archaic video games, or even worse, go out and drink or something?"
The game, located in the hotspot between the Norris bathrooms and lockers, created a lot of traffic in the area, putting the adjacent NBA Jam Arcade game to shame. Its current state is demarcated by an 8 by 11.5 inch of paper proclaiming the machine is "Out of Order" in Comic Sans that's been slowly sliding down the machine in the ensuing months since it broke.
Norris officials have assured the public the repair of the machine is a top priority. Argus Fink, keeper of games and grounds at Norris, said, "Repairing the Golden Tee is essential. We at Norris, and at Northwestern at large, know the importance of staying current with students, providing the best and most relevant entertainment and programming for our students. It's why we had a Bingo tournament through NU Nights."
Senior MMSS major Peter Framke explained that the game fit perfectly for most NU students. "I mean first, you have the amazing, accessible game of golf; the people's game, as I call it. Then you combine that with 80s-era graphics and roller-ball game play, and it's an experience that can't really be beat."