Rapper Danny Brown Plans Dillo Day Reading of The Da Vinci Code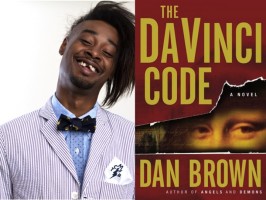 EVANSTON — Following the announcement that rapper Danny Brown would be the midday Hip Hop artist featured at this year's Dillo Day festivities, many Northwestern students voiced concerns related to a recent scandalous performance by the artist in Minneapolis. Mayfest, the group responsible for planning the Dillo Day lineup, quelled the anxieties of more conservative Wildcats by explaining via their twitter account that instead of actually rapping, Brown would do a live reading of the 2003 literary thriller The Da Vinci Code.
"I mean, with Smash Mouth headlining, Dillo is early 2000s themed already," Mayfest President Tanya Whitmore told The Flipside. "Having an actual almost-mainstream artist perform nearly-popular music just wouldn't have been in line with NU tradition."
Whitmore went on to explain that she and her executive board had had reservations about the overtly sexual lyrics of the self-proclaimed "XXX" rapper from the outset, "but Professor J. Michael Bailey really pushed hard [for us to invite Brown]. Like, he literally tweeted at us every single day. He's paying for half the performer's fee. All-in-all though, having a book reading is probably more appropriate for Northwestern students anyways, and it might actually require more musical ability than Steve Aoki's set last year."
The Dillo Day reading will take place on the Lakefill around noon, and Whitmore assured The Flipside that appropriate refreshments would be provided. Cucumber sandwiches and a selection of other hors d'oeuvres will be served to all attendees with a valid Wildcard, and depending on funding, a limited amount of French-press coffee and espresso may be available.
Rumors of several unofficial Da Vinci Code-related events have also surfaced, including incriminating evidence about secretive groups like Deru and Lou Malnati's pizzeria. Sheil Catholic Center is "extremely concerned about the protection of our relics," according to Priest Brian McNally. "We have what we are 95% sure is Frances Willard's rosary AND a pennant from the 1875 football season."
The Dittmar Gallery, on the other hand, is less concerned about any connections their art collection might draw to Brown's mystery novel. "Honestly," said curator Nancy Timmons, "it would just be great if students came here. Even if they were on a drunken quest for the Holy Grail."