High School Student Arrested, Deported, then Arrested Again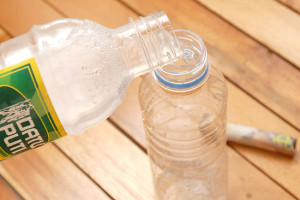 MIAMI, FL — Failing to learn from the example of Kiera Wilmot in Bartow, FL, a Miami student, 16-year-old Gabriella Silva, arrived at Vargas High School this past Tuesday with a water bottle filled with a mixture of household cleaning products, capped with aluminum foil. A reaction between the chemicals in the cleaners and the aluminum foil produced hydrogen gas and a resulting pressure build-up inside of the bottle. Eventually the top popped off in a firecracker-like explosion with a loud sound and smoke. When this occurred, even though no students were hurt, Silva was immediately apprehended by school security and promptly turned over to the police to be handcuffed and charged with a felony.
The police were frustrated at first when they couldn't find the honors student with no previous criminal record in their system, but they then discovered the true reason why there were no records for the student: Silva was an illegal immigrant.
"I can't believe I let my daughter speak to her, let alone hang out with her," said Sally Smith, the mother of one of Silva's best friends.
Officers said that, after making their discovery, they turned her over to Customs and Border Protection, an organization within the Department of Homeland Security. The officer in charge declined to comment, but The Flipside was able to attain an off-the-record statement from another member of the department:
"It's real good that we caught this when we did," the source said, adding, "you know how it spreads once they turn into adults – Mexicans have so many babies."
Silva is of Chilean descent.
After deporting Silva, though, authorities realized that they never ended up making her serve time for the felony charge of blowing the cap off of a water bottle. This supposed "injustice," according to Vargas High School Principal Mary McClean, was remedied right away when the police travelled to Chile to bring Silva back with them.
A second unnamed source, who was a part of the force sent to arrest Silva, was "relieved that we could make her serve time in the country she committed her crime in," because letting her live out her days in a country she left when she was two-years-old was "too easy."
It currently costs $19,469 per year to incarcerate an inmate in Florida.