Ezra Pound: "I Really Admire Your Wildcat Spirit"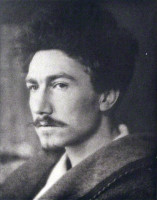 By the Ghost of Ezra Pound, Modernist Poet
I chose to attend the University of Pennsylvania when I was fifteen years old. I really loved my time there, especially my adventures with my crazy hippy pre-med roommate. However, there was always one thing that was missing at Penn, so I transferred to Hamilton College – only to find that it was missing there as well. When I worked at Wabash College, I couldn't find that special quality for which I was looking so hard.
I was looking for a sense of cohesion, and I truly feel that Northwestern University comes out on top in demonstrating that most important of values. The students of Northwestern University have bound themselves together, perhaps individually breakable but totally invulnerable when combined and united around strong academic and athletic leadership.
The game against Ohio State proved this value. While the Wildcats may not have won, the important thing is that every single Wildcat felt as if they were part of something greater than themselves. The people of Northwestern University looked past their many differences, and momentarily accepted that they were all Wildcats to the core of their existence. They gained identity and purpose beyond the puny constraints of the individual, giving themselves to the greater, dominating, and purifying Purple Pride. A sea of purple shirts, without interruption or impurity, all rallying around the leadership of the great Pat Fitzgerald – what could be more beautiful? Nothing, I feel.
I urge Northwestern University to keep on promoting and encouraging this sense of shared identity through cohesive allegiance to the strength and virtue of your wonderful institution. I'm sure that it will serve all of the Wildcats very well in future years; history shows that nothing can stop a truly motivated group of people from achieving remarkable things, so long as they can band around a common banner. My time serving Il Duce comes to mind.