Lake Forest College Implies Menacing Plans for McCormick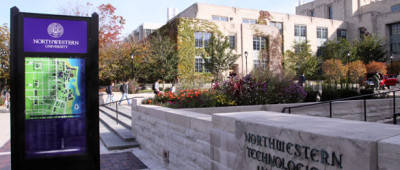 LAKE FOREST, IL — Dr. Stephen D. Schutt, President of Lake Forest University, made comments this week that implied vague but negative intents toward Northwestern's Robert R. McCormick School of Engineering and Applied Science.
In a press conference held on Thursday within his private subsurface lecturing hall, draped in a black velvet cloak with a red collar, Dr. Schutt congratulated Northwestern University on the success of the McCormick School. "What a very precious set of buildings, faculty, and staff," said Dr. Schutt. "It would be an absolute shame if something were to happen to all of it," he continued, petting his cat.
"It could even have fatal or worldwide consequences," warned Dr. Schutt as he laughed and sipped from a glass of blood-red wine.
"I'm reminded that Lake Forest College does not have any sort of engineering school, for now," said a grinning Dr. Schutt. Meanwhile, a lone violinist played a haunting melody in the corner of the cavernous lecture hall. "But then we wouldn't want to say too much about plans yet to reach completion, would we?"
Dr. Schutt did have some criticism for McCormick. In his standard use of the third person, Dr. Schutt said, "Dr. Stephen D. Schutt can't say Dr. Stephen D. Schutt is a huge fan of the name. Perhaps a Dr. Stephen D. Schutt School of Engineering would be better able to educate students, don't you think?"
The press conference ended prematurely when reporter Ivan Bergoglio from The DePaulia addressed Dr. Schutt as "Mr. Schutt." Bergoglio has not been seen since the press conference on Thursday, and authorities have urged all citizens to come forward if they have any information about Bergoglio's whereabouts.
Dr. Schutt later clarified that he had been under the impression that the Robert R. McCormick School of Engineering and Applied Science was a component of Northeastern University. Schutt added, "Dr. Stephen D. Schutt bears no malicious intent toward Northwestern University at the moment. Hope and pray that Dr. Stephen D. Schutt does not reconsider his stance."