OPINION: Venric Mark's Injury Could Derail Northwestern's Dream Season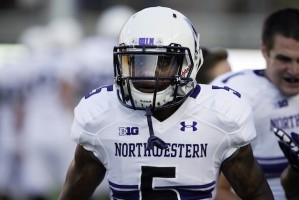 For lifelong Northwestern fans, the current season for the Wildcats has been one everyone has wished for many decades: a healthy amount of national attention, a near-victory over a national championship contender and a successful Hail Mary were just a few of the things that have made this season memorable so far. Yet, it could be the smallest, absolutely tiniest things — like an injury — that make it all in vain.
Since news broke earlier this week about Venric Mark's season-ending injury, fans have been wondering how it will impact the Wildcats' near-perfect season. Many imagine that our offense, equipped with Trevor Siemian's impeccable passing, will go on to take care of business, even in the absence of one tiny running back. Even more say that the remaining schedule, facing a rather uninspired Michigan, an outright boring Michigan State, and the perpetually awful LOL-linois, is a surefire guarantee that we're on our way to Indianapolis in December and eventually the Rose Bowl.
As Lee Corso likes to say on the set of College GameDay, not so fast, my friend.
The odds are good Fitz and his offensive coordinator Mick McCall will stick to the game plan — two downs in incomplete passes and then have a running back who was chosen before the game with a Twister-style spin-board scramble on third-and-long for the first down — that has worked extremely well so far even without Mark. Both admit, though, that some of the remaining games could prove to be a challenge now that the All-American punt returner and otherwise-really-good player is out for the rest of the season.
No, I am not saying we all should start panicking, but it should always be in the back of our minds: what happens if all of our other good running backs, like Stephen Buckley, get injured as well? What if literally every important starter on the team — Green, Trumpy, Jones, Campbell, the other Jones, Vitale, Vitabile, Colter, just to name a few — all got injured after one game? Worse yet, what happens if it turns out Siemian really isn't all that good at throwing footballs? This season could turn into something like the 2010 season, or worse yet, the 2011 season.
Mark my words, this could be a game changer.